Going off the great back and forth between @
ScottEnyeart
and @
DavisHsuSeattle
, I figured it might be a good time to break down the roster after seeing a little and hearing a lot. Without further delay...
Specialists - 3
Punter - Jon Ryan
Kicker - Jeff Reed
Longsnapper - Clint Gresham
Cut - P John Gold, K Brandon Coutu
Thoughts - The only question here is whether the Seahawks take Jeff Reed or Brandon Coutu. I don't believe Coutu has the leg to kickoff regardless of the starting point. Not sure he could hit the endzone from the fifty. Wouldn't be shocked if the Seahawks brought in another kicker if someone gets cut on the move to 53.
OFFENSE
Whitehurst? I hardly knew her! #notarealjoke
Quarterbacks - 3
Depth Chart - Tarvaris Jackson, Charlie Whitehurst, Josh Portis
Thoughts - Okay, that was pretty easy. Unless a legitimately solid veteran is cut at the move to 53, I don't see the Seahawks bringing anyone else in to compete here, especially how Portis has looked in game and training camp.
Running Backs - 4
RB - Marshawn Lynch, Leon Washington, Justin Forsett
FB - Michael Robinson
Cut - Vai Taua, Thomas Clayton
Bubble - FB Ryan Travis, FB Mike Karney (not currently on roster)
Thoughts - I think the Seahawks carry only four of the current roster into the season, but could end up signing Mike Karney to play fullback. I really want Ryan Travis to work out, but honestly he could probably be stored on the practice squad without much concern. By only carrying four players, the Seahawks essentially gain a roster spot that they can use on TEs or DBs.
Tight Ends - 3
Depth Chart - Zach Miller, John Carlson, Dominique Byrd
Bubble/Cut - Anthony McCoy / Cameron Morrah
Thoughts - I wouldn't be surprised if one of the latter three were traded, because there is a lot of talent in these five guys. Dominique Byrd and John Carlson are the oldest of the bunch (27), but Byrd has looked special so far. Morrah has no ties to Pete + John, but was solid last year when given a shot. I like McCoy, think he's got a ton of upside, but he has an uphill battle to make the team, barring a trade.
Wide Receivers - 6
Depth Chart (4) - Sidney Rice, Mike Williams, Golden Tate, Kris Durham
Bubble (2) - Ben Obomanu, Doug Baldwin, Ricardo Lockette, Isaiah Stanback, Chris Carter
Cut - Pat Williams, Brandon Smith, [three of the bubble guys]
PUP / Cut - Deon Butler
This feels like a deep position, and to a degree it is. I see almost no way that Ben Obomanu does not make the team based on his flexibility -- he plays split end, flanker, and slot. Still, this is PC/JS so anything could happen. Of the rest of the bunch, I believe Doug Baldwin has earned a roster spot. If not him, likely Lockette, but I think he's a practice squad guy. Stanback is likely gone, but is good on special teams and could be a hyper-emergency QB (or wildcat guy). Still, lots of bubble guys, but outside of the top three, none are really NFL-caliber starters. So, depth? Yes. Deep? Not really.
Offensive Line - 9
Tackles - Okung, Carpenter, Polumbus, Paul McQuistan, Will Robinson
Guards - Gallery, Moffitt, Gibson
Center - Unger
Cut - Zach Hurd, Brent Osborne, Lemuel Jeanpierre, Breno Giacomini, Fanaika (bubble?)
Thoughts - A lot of the depth guys are bigger question marks than in years past. They've stocked this team with a lot of big, mean depth that we don't really know much about. Impossible to know what PC/JS/Tom Cable are thinking, but Paul McQuistan is a veteran who was brought in this year, and Will Robinson has impressed me in the past. Guard-wise, they are pretty sturdy, especially since Polumbus can slide inside. Ditto center, where Mike Gibson can handle duties, and has with the second team.
DEFENSE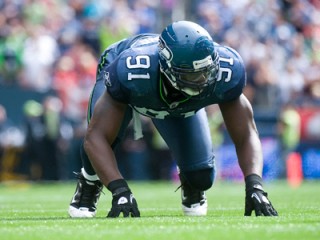 "You gotta crawl before you ball..."
Defensive Line - 9
Depth Chart - Clemons, Mebane, Branch, Bryant / Brock, Siavii, Sims, Davis, Wilkerson
Cut - Konz, Levingston, Balmer, Schable, Jay Alford, Pierre Allen, Crittenton
PUP - Colin Cole
Thoughts - I'm not totally sold that Dexter Davis makes the team, ditto Wilkerson. They could readily be replaced by Konz and Levingston/Balmer. I think one of Davis or Konz makes the team though, because the Seahawks need pass rush from youth, with Clemons and Brock being two of our oldest roster members. Really iffy on Wilkerson, but not sure any of the other guys replaces him.
Defensive Backs - 10
FS - Earl Thomas, Mark LeGree, Jeron Johnson
SS - Kam Chancellor, Atari Bigby, Josh Pinkard
CB - Marcus Trufant, Walter Thurmond, Brandon Browner, Richard Sherman,
Cut - Marcus Brown, Kennard Cox, Byron Maxwell, Ron Parker, Kelly Jennings, Jesse Hoffman, Ricky Thenarse
PUP - Roy Lewis
Thoughts - One by one...
Free Safety
is tough. Earl is obviously in, and so far, Jeron Johnson absolutely looks like the real deal. I don't see Mark LeGree not making the team after being drafted in the 5th round. Honestly, the last safety spot could be between Johnson, LeGree, and Pinkard, but I think all of them make it. Pete values safety higher than CB, and with Earl, LeGree and Pinkard all offering the flexibility to effectively play nickelback, I think they can keep six safeties and only four CBs.
Cornerback
is, as stated above, a less valued position in Pete's defense. Trufant, Thurmond, Browner and Sherman all feel like locks to me (unless Thurmond is on the PUP list, but I believe he's supposed to be back soon). Roy Lewis is hard to keep off this squad, especially given what he adds on special teams, but I think he heads to the PUP list. If someone is injured, we'll throw one of our guys who makes it to the practice squad (most likely Byron Maxwell) onto the active roster until week seven.
Linebackers - 6
MLB - David Hawthorne, K.J. Wright
OLB - Leroy Hill, Aaron Curry, Malcolm Smith, Matt McCoy
Cut - Neal Howey, Michael Johnson, Mike Morgan
Thoughts - Wow, taking Tatupu out of the picture really clears things up. I think the top five guys are all clearly deserving of a spot, while the sixth spot goes to the best specials teams guy. Don't think anyone is a whole lot better than McCoy, so he wins for now.